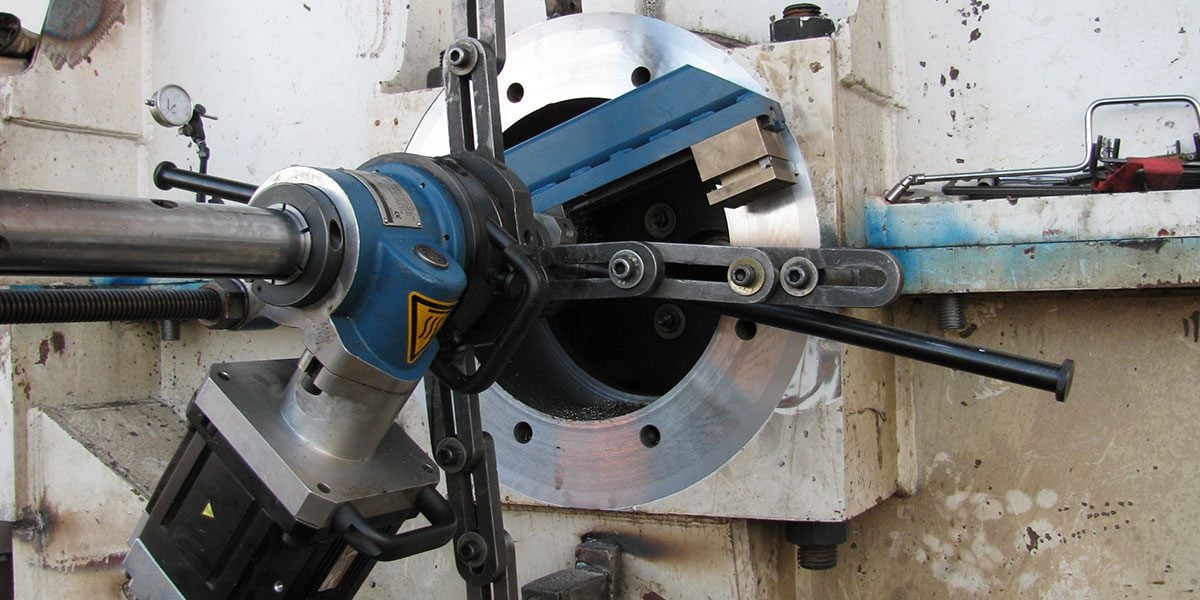 16 Sep

CLIMAX BB5000 FACING HEAD ACCESSORIES

Tackle any Facing Job with a CLIMAX Facing Head

The CLIMAX BB5000 Line Boring Machine can handle any facing job with our purpose-built facing head accessories. . Applications such as bucket boss faces, bearing mounting surfaces, snap ring grooves, O-ring grooves, sealing surfaces, and many more are done daily with these versatile facing attachments.
| | |
| --- | --- |
| | BB5000 Adjustable Range Facing Head Accessory has a swing diameter that can be adjusted to fit into smaller rotating diameters and requires minimal spacing between the bearing and workpiece. The feed rate is fixed at 0.012 inches (0.3 mm) per revolution, and it can face both rotation directions. The tool head has several tool bit mounting configurations, including an angled tool hole that allows the cutter to reach past the edge of the tool head. This configuration allows the facing head to be used in restricted swing applications, like facing bucket bosses. |
| | BB5000 Facing and Grooving Head Accessory has an adjustable feed rate and a fixed swing diameter. With an adjustable feed rate of up to .050 inches (1.3 mm) per revolution, maximum metal removal or precise facing and grooving can be achieved on the fly. There is a restricted swing diameter version as well as a large diameter version. |
| | BB5000 24 Inch Facing Head Accessory is super heavy duty and can make quick work of facing jobs up to 24 inches (609.6 mm) in diameter. With ultra rigidity, this monster can deal with the toughest welds and materials. The feed rate is adjustable up to 0.011 inches (0.3 mm) per revolution, allowing you to dial in the optimal feed for your tough facing or grooving applications. |
These and other accessories for your CLIMAX BB5000 Line Boring Machine can save you time, money and even allow you to enhance the services you provide your customers. Contact us today – let us put our machines (and accessories) to work for you!